"Illiteracy impacts every single one of us…it is our obligation to promote the importance, joy and power of reading. All it takes is one book to change a life." – Ty Allan Jackson
Our mission is simple: empower children to achieve greatness through literacy. The fight against illiteracy is an uphill battle, but we do the work knowing that children who read are statistically more likely to succeed later in life.
Read on to learn more about the impacts of illiteracy and our solution to the problem.
The Problem
Dr. Bernadette Dwyer, the President of the International Literacy Association, once said, "Literacy permeates all areas of life, fundamentally shaping how we learn, work, and socialize." It therefore follows that illiteracy impacts every part of life.
Illiteracy and the Criminal Justice System
According to the Department of Justice, "The link between academic failure and delinquency, violence, and crime is welded to reading failure." Over 70% of inmates in America's prisons cannot read above a fourth grade level. Additionally, 85 percent of all juveniles who interface with the juvenile court system are functionally illiterate. Clearly illiteracy and crime are closely related. Children who do not read at home fall behind in school early, which increases the chances that they will drop out of school later on. And children who drop out of school are more likely than their peers to engage in criminal behavior.
Illiteracy and Poverty
In a 2010 research paper titled "Literacy and the Entry-Level Workforce: The Role of Literacy and Policy in Labor Market Success," Dr. William C. Wood explores the connection between illiteracy and poverty. He concludes, "High literacy is strongly associated with favorable labor market outcomes. Low literacy is associated with lower probabilities of employment, greater probabilities of low labor income, and sharply higher probabilities of requiring public assistance." And according to Project Literacy, "people struggling with literacy are more likely to be poor, lack education, and miss out on opportunities to participate fully in society and the workforce." All in all, those struggling with illiteracy have the odds stacked against them. And these struggles often get passed down to their children.
The Generational Impacts of Illiteracy
An important indicator of literacy success is whether or not children are introduced to reading at home. According to the United Nations Educational, Scientific and Cultural Organization (UNESCO), many adults who struggle with literacy "deliberately avoid literacy-related activities in later life. When they have children of their own, they tend to communicate (often non-verbally) their negative feelings towards literacy and schooling to their children, and thus perpetuate an intergenerational cycle of illiteracy." The impacts of illiteracy reach far beyond the individual, and can lead to negative outcomes for future generations.
Race and Illiteracy
People of color have a disproportionately high level of representation in illiteracy statistics. In addition to the institutional racism embedded in our country's education system, one of the main causes of illiteracy among children of color is an extreme lack of diversity in children's books. As shown below, only 23% of all children's books depict children of color. While this number is gradually increasing, it is still a troubling statistic.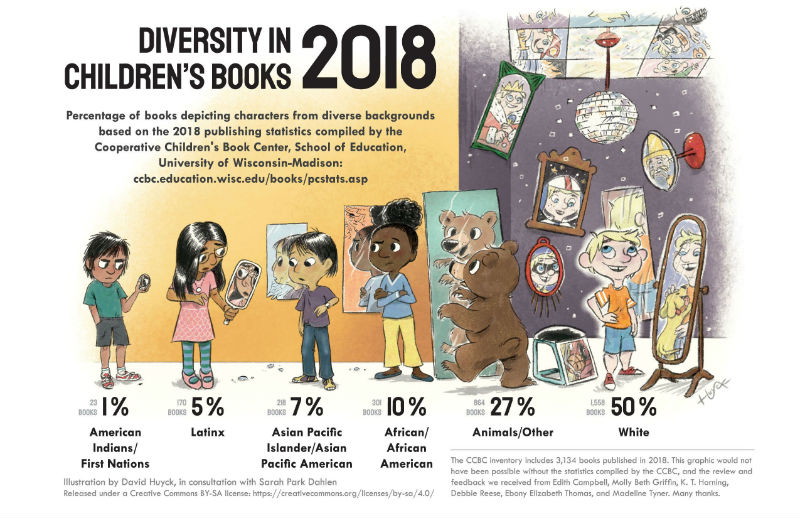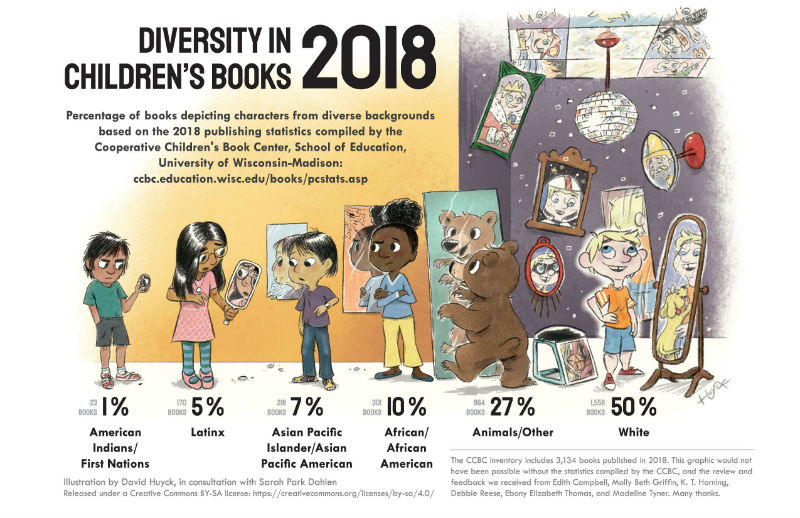 The Solution
Frederick Douglass once said, "It is easier to build strong children than it is to repair broken men." The way to fight illiteracy is simple: introduce children to reading early on. Strong readers equal strong children. Books build self-esteem, character, and good communication and academic skills. Creating a culture of reading in our homes today will build a better world for all of us tomorrow.
The Importance of Representation
Children are far more likely to read and enjoy a book if they see themselves represented in its pages. It is especially important for children of color to see contemporary characters who look like them. Books can be a passageway to big dreams, and all children deserve to see themselves depicted in empowering, fun, and relatable ways. Regardless of our color, we all need to make an effort to provide our children with books that reflect the diversity of our world.
The Power of Authors
In addition to providing our children with books featuring characters of color, we must also promote books written by authors of color. Children need to see that authorship is available to anyone, regardless of color.
We also need to celebrate our authors as much as we celebrate professional athletes and movie stars. When children are young, they see images of celebrities and idolize them. We don't give them the opportunity to idolize authors because authors are often unseen. They need to be brought to life in order to make an impact on young readers. When Ty visits schools, students treat him like a celebrity. A literacy specialist at a school Ty recently visited said this:
"While Ty walked through the halls of School 2, students could not wait to talk to him, hug him, shake his hand, and ask him to sign their books. Ty was so good with the kids who saw him as a relatable role model. The students celebritizing an author was an important and positive consequence of Ty's visit in that students were just as—if not more—enthusiastic about reading and writing as they usually are about less critical topics such as media and sports. This enthusiasm around reading and writing has endured well beyond Ty's visit."
This is how we create strong readers and future authors. This is how we fight illiteracy.